Overview
Within the Communicate Menu on the contact record, you can send emails, send text messages (PRO plan only), generate letters, and generate labels for individual contacts, instead of selecting the contact from a list page or search/report.
Click here to return to the Contact Record Overview.


---
How-To: Use the Communicate Menu
When you are viewing a specific contact record within SchoolAdmin, you can access the communication options by clicking on the green Communicate button in the upper right of the page.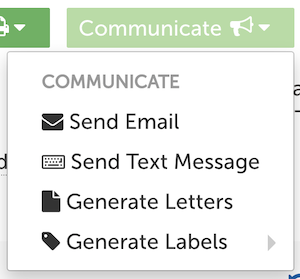 From this menu, you can select the desired communication option and the appropriate window will open. Learn more about each option:
Communications sent on an individual basis work the same way as they do in bulk. Please note: Within the Send Email or Send Text Message window, 'selected contacts' refers to the contact record you are currently viewing. This means that if you are viewing a parent/guardian or consultant contact record and you want to send them an email or text message, you should choose the 'Selected contacts' option, as opposed to one of the 'parents/consultants of selected contacts' options.


---
Additional Resources