Overview
The Impersonate feature gives users the ability to mimic the login session of a parent, and view their Parent Portal the same way that the parent views it. This can be helpful in troubleshooting problems and having better context of the parent's perspective while using Finalsite Enrollment. This article will detail how to enable Impersonate and how to use the feature.
---
How-To: Grant Impersonate Permissions to Admins/Users
Before an admin/user can use the Impersonate feature, they must be granted permission on the Admin Accounts page. Without this permission, the admin/user will not see the 'Impersonate' button when viewing the portal accounts tab on a record.
To grant this permission to one or more admins/users, someone set up as a System Admin in your Finalsite Enrollment site can go to Settings --> Portal --> Admin Portal Accounts. From there, simply check the 'Impersonate' box for any accounts you want to have access to this feature.
--
How-To: Use the Impersonate Feature
Once Impersonate is enabled for your account, you can now impersonate the login session of any parent with an associated Parent Portal account. To do this, open the contact record of a student in the system, click the "Households" tab, then click "Parent Portal Access." There will be an "Impersonate" button located in the "Linked Account" column for any parent account associated with that contact. To view their parent portal, click the "Impersonate" button.
When you click the Impersonate button, you will be signed out of your current session and start a new login session impersonating the parent. The new session will appear in a new browser window or tab, depending on your individual browser settings.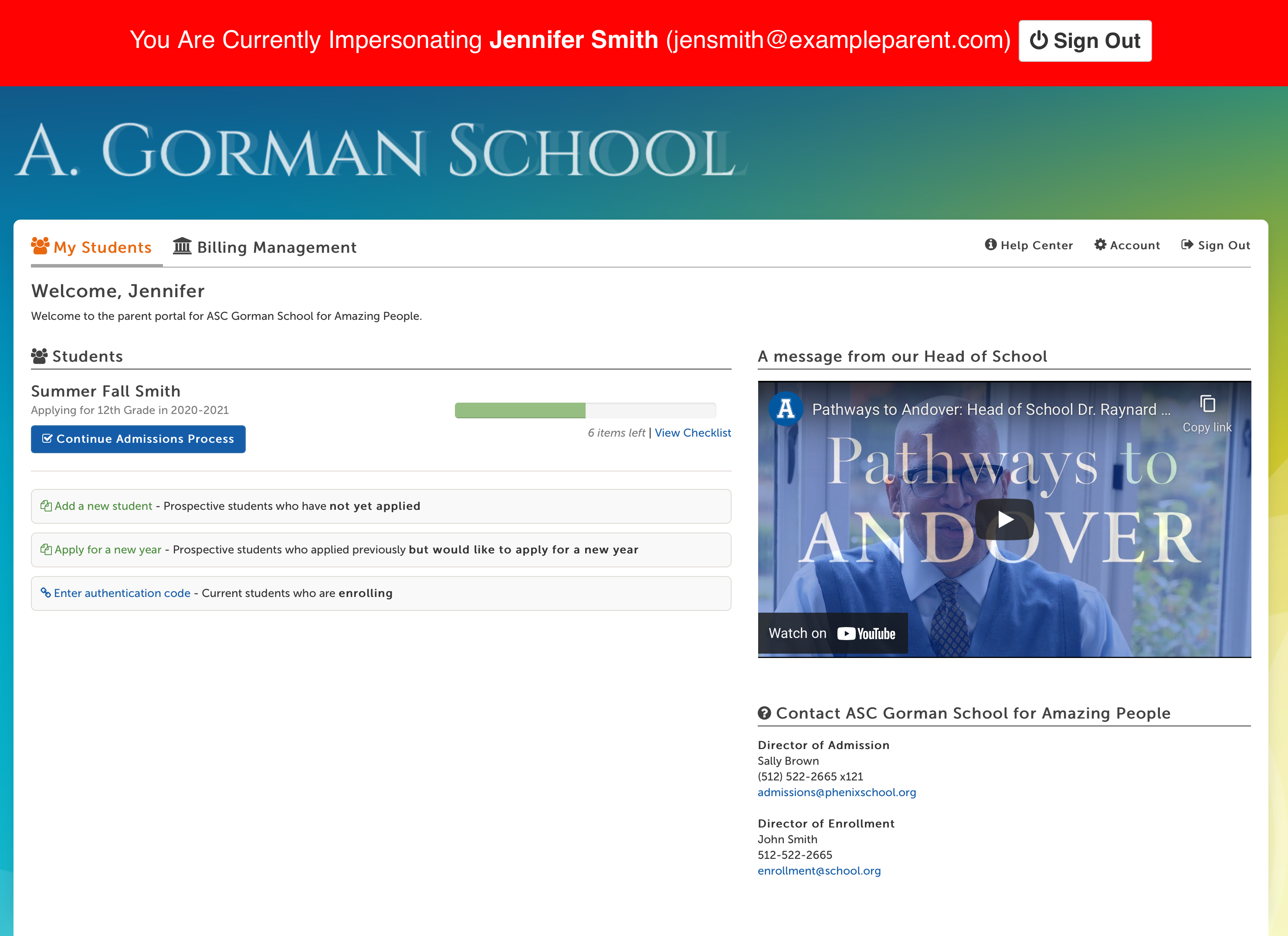 At this point, you will be able to see everything in the parent portal as the parent would see it. You'll be able to complete most actionable items a parent would, such as submit forms, upload files and schedule calendar appointments. However, you will not be able to submit a contract, or submit a payment with saved payment profile information.
To return to the Finalsite Enrollment app, you will need to sign out of your parent login session. To do that, click the "Sign Out" button in the top red bar of the browser. Then, sign back into your Finalsite Enrollment app as usual.
---
Additional Resources