Overview
Custom Appointment Forms are a special type of online form within SchoolAdmin that can be linked to your calendars. They are useful if you want to collect additional information from a family at the point of event registration. When a family registers for an event (via a public calendar link or a calendar checklist item) with a custom appointment form attached, they will be prompted to enter the information you have set as required on the form.
Please note: Custom appointment forms will not display for calendars that are embedded in forms (such as the Inquiry form). Parents that are booking themselves for appointments via a form will only enter the basic contact information for the appointment.
You can create multiple custom appointment forms to correspond to different calendars, or, alternatively, you can link the same custom appointment form to multiple calendars.
---
How-To: Create and Edit Custom Appointment Forms
To access Custom Appointment Forms, navigate to 'Settings' - 'Forms' - 'Custom Appointment Forms' in your SchoolAdmin site.
To create a new custom appointment form, click the green plus sign labeled 'Add Form' in the top left of the 'Custom Appointment Forms' page, then enter a display name and canonical name for the form.
You can edit custom appointment forms to the same extent -- and using the same process -- as you can with other custom online forms in SchoolAdmin. Click here to watch a tutorial on editing forms, or read our how-to article on it here.
The content of the custom appointment form is up to you. However, please note that the following fields must be on ALL custom appointment forms and marked as required:
Student Name

Student Apply Year

Student Apply Grade

Parent1 Name

Parent1 Email

Parent1 Phone
Please note: Because custom appointment forms are accessed when someone is already booking an appointment, it is not necessary to add an appointment field to an appointment form -- and doing so will actually cause errors on form import.
---
How-To: Link Appointment Forms to Calendars
To link a custom appointment form to a calendar, navigate to the calendar in the 'Scheduling' tab - 'Calendars' sub-tab. Once you have it pulled up, click on 'Calendar Settings' in the upper right and then select 'Edit Settings'.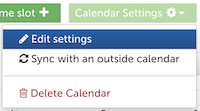 In the 'Calendar Details' details window, there will be a box near the top labeled 'Appointment Form.'
Click into this box and select your form, and then hit 'Submit' to save the change. Once this is done, you can move on to the next calendar (if applicable) and repeat these steps.
---
Additional Resources