Overview
Admissions Statuses include all status types within the admissions role, such as Applicant, Application Complete, and Accepted. With status searches, you can find students who are currently in one of these statuses, or students who were previously in a status for the school term you select. Read on below for more information.
---
How-To: Run an Admissions Status Search
To get started, click on the Search & Reports tab at the top of your Finalsite Enrollment site.
To search by admissions status, you will set the following criteria:
Search criteria type: "Admissions Status".

Select "Is currently" or "Became"* (see below for more information)

Select one or more admissions status(es) from the drop-down menu provided.
*Searching for status "is currently" will pull any contacts that are currently in the selected status(es) for the term. Searching for status "became" will pull historical data and show you anyone that was previously in the selected status(es), for the term, during the time frame selected. Therefore, if you search for anyone that 'became' an Applicant at any time, you'll notice some contacts will still be in an Applicant status, while others may have moved on to other statuses such as Application Complete, Accepted, etc.

Example Search Scenarios
1. Find anyone in the Term 2016-2017 that's currently an Inquiry.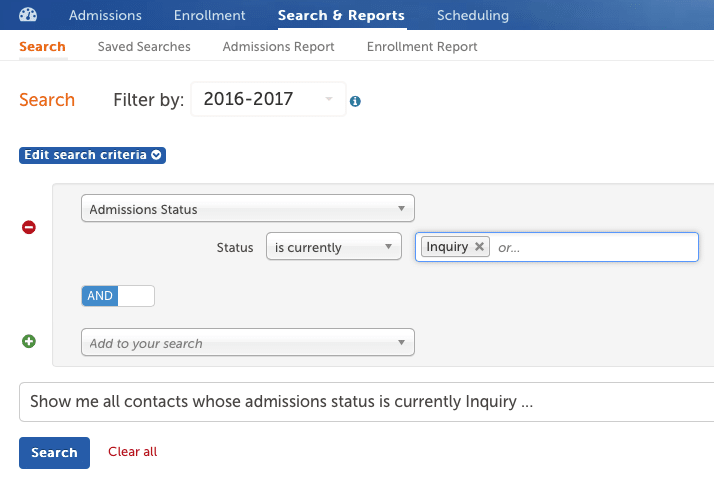 --
2. Find anyone in the Term 2016-2017 that became an applicant in the last 30 days.
--
3. See how many completed application forms you have for each grade level for your applicants and your application complete students.
First set your search criteria and click search.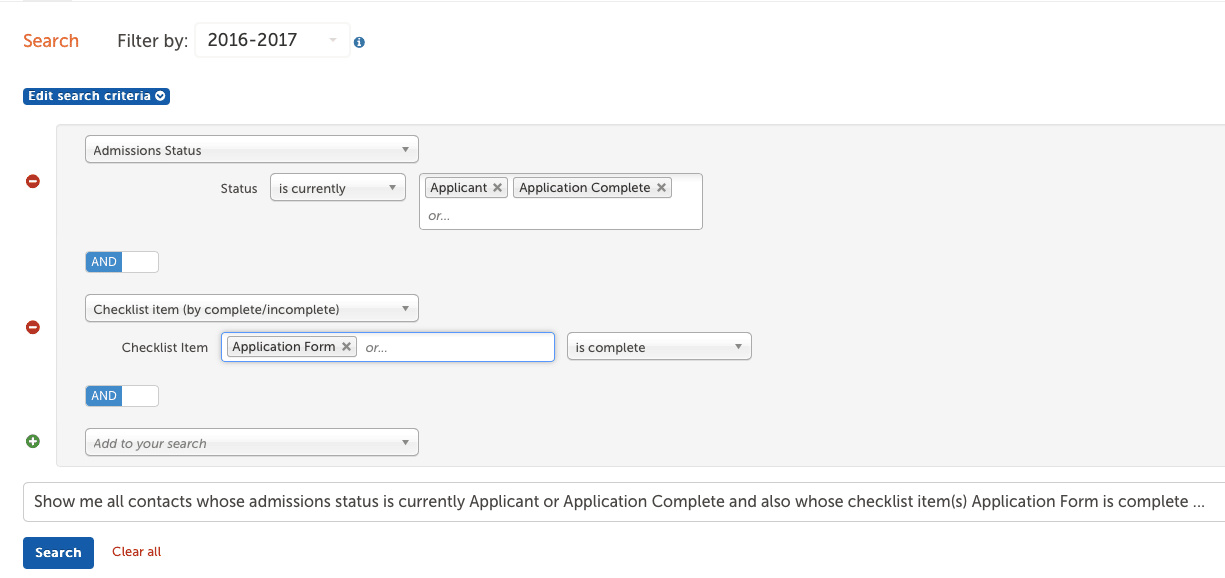 Next, click on change display/columns.

Select the Summary Report (1). Sort by just the Grade (2) level if you want a total count of completed Application forms for each grade. There will also be a total overall count calculated at the bottom. Then, click Apply (3).
Once your results display, you can Save (1) your search for future reference or Export (2) it to Excel, CSV, or to an import template.
---
Additional Resources