Overview
For schools using the Lottery feature, this article will detail how to run a lottery in Finalsite Enrollment, including testing the lottery as well as viewing or presenting the results. To learn how to customize your lottery settings and presentation, click here.
---
How-To: Set Up Lottery Tiers
The Finalsite Enrollment lottery runs off a system of tiers, allowing schools to easily customize how students are chosen for their lottery. As an example, you might have one tier for students who have a sibling already attending the school, and a second tier for general admissions. Note: Students should be in an applicant or application complete status to be considered in the lottery.
Before running a lottery, you will need to set up each tier as a saved search in the "Search & Reports' section of Finalsite Enrollment. Click here for more information on how to use the search tool.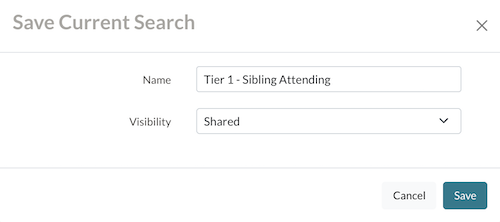 A good practice is to clearly label your search with the tier and a short descriptor so that it is clear which one to select when running your lottery.


---
How-To: Run a Lottery
To run a new lottery, view past lotteries, or present results, navigate to 'Settings' - 'Lottery' - 'Lottery' in your Finalsite Enrollment site.
Click on the green 'Run a Lottery' button in the top left to get started. In the dialog box, you will see the following options.
Test Lottery: Run the lottery in test mode. When checked, the system will perform all steps of the lottery except the final step of changing a student's status. This is useful in testing your lottery tiers or weighting system. Note: Test Lotteries can be deleted after running them.
Apply Year: Set the apply year of the lottery you'd like to run.
Apply Grade: Set the apply grade of the lottery you'd like to run.
Accept how many students?: Set the number of students you're going to accept for the apply year and grade selected.
Automatically accept siblings?: Choose how you want to handle automatically accepting other applicant siblings. If selecting 'All siblings' or 'Siblings in the same grade', you have the option to also automatically waitlist same-grade siblings together.

You can then choose between doing a Tiered Lottery or a Weighted Lottery:
Tiered Lottery: Priority tiers are defined in a saved search.
Weighted Lottery: Lottery creates a total weight for each student based on the tiers in which they appear.
After selecting your saved search for Tier 1, you can click on 'Add Tier' to continue to add the next one. Once you are done setting up your options and tiers, click on 'Run Lottery'. The system will let you know the lottery is running and will complete in the next few minutes. You can refresh the page to see the status.
Once the lottery is finished, click 'View' to see which students were moved to Accepted or Waitlisted status. Please note: If you chose to hide student names in your lottery settings, the name in the Contact column will appear blank on this page until you click the 'Reveal Student Names' button above the list.

For test lotteries, student statuses will not actually be changed. Your Waitlist can also be viewed from the 'Admissions' tab - 'Waitlists'. Custom columns can be added to the Lottery Results page from the 'List Page Configuration' setup page. Click here to learn more.


---
How-To: Present Lottery Results
Within the Lottery page, you can click on the 'Presentation' link to go to a presentation mode of the lottery that you can display for parents or in front of your auditors to give a visual demonstration of the lottery. Schools operating remotely can run this presentation and then share their screen, so that parents and students can watch over Zoom, Google Meet, etc.
Please note: The link to the presentation should not be shared with anyone outside of your Finalsite Enrollment users, as it will prompt them to log in to your Admin Portal upon clicking it.
Once the Acceptance Lottery presentation has played, you will be able to start a Waitlist Lottery presentation.
By default, the presentation mode will show each student's name, lottery result, and birthdate. Within the Lottery Settings page, you have the option to hide student names (and replace them with a unique Lottery ID for each student) and/or hide student birthdates when presenting your lottery. Click here to learn more.
Waitlisted students will have their waitlist position number listed. If the lottery was run as a test lottery, this will be indicated on the presentation mode as well. To change how many rows to display, fade-in/fade-out times, or delays on the lottery presentation, go to your Lottery Settings.


---
Additional Resources