Overview
Prospects are students or families that haven't expressed interest in your school yet but who are potential candidates for your funnel. They might be generated from sources such as feeder schools, nearby churches or clubs, referrals from current families, and so on. This is different from an Inquiry, who already expressed some level of interest in your school.
Prospects have the potential to be converted into Inquiries or even Applicants for your school. Managing your Prospects in Finalsite Enrollment will help with this goal by allowing you to easily track and communicate with them.
Click here to learn about the actions you can take on the Prospects List Page, as well as how to create a prospect report.
Prospect Workflow
Prospects are considered out of workflow contacts in Finalsite Enrollment since they fall outside of your Admissions funnel until you make that first connection. Your first engagement with a prospective family is what converts them to an Inquiry, which is the entry point to your Admissions Funnel AND the start of your relationship! Inquiries are considered in workflow which means you now have a dynamic checklist to track your touchpoints and work on those applicant conversions.
Important Note on Merging Prospects
Prospects are not assigned an active term in the system when added. Instead, there's an expected entry year field (prospect_entry_year) that is set for them. If a Prospect gets merged with any other contact, or with a contact from a historical import (who also have no active terms in the system), they will be assigned the current active term upon import.
--
How-To: Adding Prospects in Finalsite Enrollment
You can add Prospects in your Finalsite Enrollment system one at a time or through a bulk import. Read on below to see instructions on how to do both of these.
Individual Add
To add an individual Prospect, click on the Quick Action icon (represented by a plus sign) in the upper right of Finalsite Enrollment. Then, select the option for Add a Prospect or Consultant.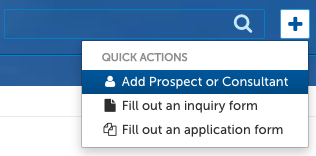 In the window that appears, enter the first name and last name of the prospect, then press enter on your keyboard. This will search the system for any existing contacts with that name. If the system finds any potential duplicates, you will have the option to update the existing contact(s) or create a new contact.
If no potential duplicate matches are found, or you choose to create a new contact, you will then need to select the Contact Role of Prospect. You can then enter their expected Entry Grade and Entry Year, as well as a phone number.
After the information has been entered, click on Add Contact. A message will appear at the top of the page informing you that the prospect has been created, with a link to view the prospect's contact record.
Bulk Add (Import)
If you have a longer list of Prospect to add to the Finalsite Enrollment system, it can be faster add them in bulk by using the Import Data Tool. Click here to learn how to import data in Finalsite Enrollment - a Prospect Import Template is also included in this article under the Create New Contacts section.
--
How-To: Add Related Contacts to a Prospect
After adding a new Prospect, you can connect their record to any siblings or parents that are already in your funnel. This information will help your outreach to the Prospect, once you know there has already been a relationship established with the family. Click here to learn how to add related contacts.
--
Additional Resources