Overview
It is always a best practice to have one or two test students (and associated parents) in your Finalsite Enrollment system so that you have a way to easily see a parent's view of your process, and help you answer questions from families to move them along in your funnel.


This article will guide you through how to create a new test student and authenticate as a parent to them in order to test the Parent Portal experience. If you already have a test student in Finalsite Enrollment and just need to create a Parent Portal Account or authenticate yourself as a parent, skip ahead to the appropriate how-to section below.
A list of items to test and questions to ask yourself when you are on the Parent Portal site is included towards the bottom of this article.


Click to jump to:
---
How-To: Create a New Test Student
If you don't already have a test student to use, or you just want to start from scratch with one, you can follow these steps to create a test student (and associated parent) in your Finalsite Enrollment site.
* Step 1: Complete an Inquiry Form *
To get started, navigate to the public link of your Finalsite Enrollment Inquiry Form, which should be hosted on your school website. The format of this link will be:
https://yourschooldomain.schooladminonline.com/portal/new_inquiry
OR
https://yourschooldomain.schooladmin.ca/portal/new_inquiry
(for schools on Canadian server)
Once on the form, fill out all of the information and click 'Submit' at the bottom of the page. IMPORTANT: Use the word "Test" in the last name of the child and parent(s) so that your test contacts can easily be identified later on in your workflow. Example: Student named Lilah Test and parent named Jennifer Test.
The form will bring in all of the basic contact information so that you have the student, a household, and at least one parent.
* Step 2: Import the Submitted Inquiry Form *
Make sure your form was successfully imported. If you have the auto-import option turned on and you did not create any duplicate data, your test inquiry will be automatically imported.

If your form was not imported automatically, it is because either (1) a duplicate child, parent, or household was created on the form, or (2) your school has the auto-import option turned off. In either of these cases, you will need to import the test form. To do this, go to the Forms Inbox and complete the import process for your test inquiry.


* Step 3: Change the Test Student's Status *
Once your form is imported and the contact records are created, go to your test inquiry's contact record either by typing their name in the quick search bar along the top of the page or by clicking on their name in the Recently Imported tab of the Forms Inbox.
Within the student's contact record, click on the green 'Edit' button towards the top right, and select 'Change Status.' Then, select the desired status from the list of options:
Change the student to an Applicant status if you would like to test the Admissions checklist or workflow.

Change the student to an Enrollment in Progress status if you would like to test the Enrollment checklist or workflow.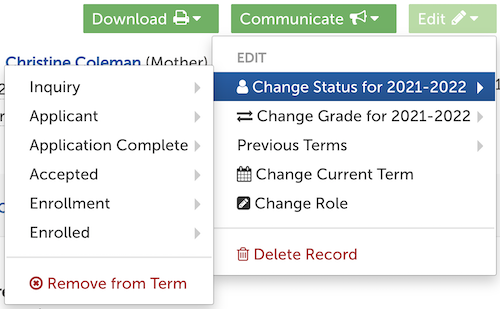 * Step 4: Authenticate as a Parent to the Test Student *
Within the record, click on the 'Portal Accounts' (computer icon) button along the far right of the navigation bar as highlighted below:
You can also access this page by navigating to 'Households' - 'Parent Portal Access' on the contact record.
Copy the authentication code for your test parent under the Code column. You will use this later after creating a Parent Portal Account.
---
How-To: Create a Parent Portal Account
Navigate to your Finalsite Enrollment Parent Portal. If you are logged into the Admin side, click on your name in the upper right and select 'Parent Portal' from the drop-down menu.
Once on the Parent Portal login page, click on the blue 'Create an Account' button in the right sidebar to create a new Parent Portal Account. You will need to enter your name, email, and a secure password (minimum 8 characters, cannot include your subdomain) for account creation.
If you already have a Parent Portal Account that is not associated with your Admin Portal Account*, you can log in on this page, instead of creating a new account.
*IMPORTANT: We recommend you create an account with a different email address than the one used for your Admin access of Finalsite Enrollment, such as a personal email address. This will eliminate any log-in/log-out issues, and also ensure that you are able to view the process exactly as a parent would. When you log into the Parent Portal with your Admin login, the system does allow you to skip certain things that a parent would not be able to skip.
It is recommended that you save your login information if prompted by your browser so that it is easy to log in the next time you need to test.


---
How-To: Authenticate a Parent Portal Account
Once you have a unique Parent Portal Account set up, you can authenticate yourself as the parent of your test student. To do this, make sure you are logged into the Parent Portal, and then click on the blue 'Enter Authentication Code' button.

Take the authentication code that you copied earlier (see above: Create a New Test Student - Step 4) and paste it into the 'Authentication Code' text box. Then, click on the blue 'Next' button.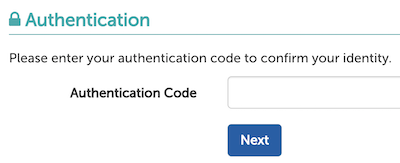 If the authentication is successful, you should see a green banner with the message "Your account has been authenticated" display at the top of the page. You will also now see your test student in the students list on the Parent Portal. If you do not see them here, make sure you changed their status from Inquiry to an Applicant/Enrollment status on the Admin side.
---
Specific Areas & Items to Test
Below is a list of some specific areas or items to review when you are testing the Parent Portal experience.
Checklist Setup:
Is there clear Parent Explanation text for checklist items to clarify what a family needs to do for an item to be marked complete?

Is each item appropriately marked as required, optional, or internal?
Online Forms & File Uploads:
Do all online forms look and behave as expected? Be sure to test any field dependencies, as well as check that any merge fields are pulling the correct information.

Do all file uploads work and accept the correct number of files (i.e. single vs. multi-file upload)?


Calendars & Events:
Do all event checklist items and/or forms that have event registrations on them have available time slots to book?

Do all event checklist items have the appropriate Calendar Access Settings configured? Check that parents/students are able to book themselves for events or cancel/reschedule appointments as appropriate. Please note: You will not receive a notification for canceled or rescheduled appointments.
General Settings:
---
Best Practices
If you keep the test student in your current workflow, make sure you remember what status they are in, so that you can reduce your counts by one for any reports you create or present to your board.
If you would like to move the test student out of your current workflow for the reason above, you can change their term (using the 'Move' option, not 'Copy') and move them back when needed. You can also change their status to see different Parent Portal views between active and inactive statuses or admission and enrollment statuses. Click here for more information on changing terms or statuses.


---
Additional Resources